At present, enteral nutrition injection is a nutritional support method that provides nutrients and other nutrients required for metabolism to the gastrointestinal tract. It has the clinical advantages of direct intestinal absorption and utilization of nutrients, more hygiene, convenient administration, and low cost. Enteral nutrition solution has the following characteristics: (1) The nutrition solution is relatively viscous, and it is easy to block the delivery pipeline during clinical infusion; (2) The nutrition solution has a high osmotic pressure, and long-term infusion is easy to absorb the water in the intestine, resulting in The patient's tissue is dehydrated. The above two characteristics determine the need for regular pipeline flushing and patient water replenishment during clinical delivery of enteral nutrient solution.
At present, the actual clinical operation is that medical staff use a syringe to add about 100ml of normal saline to the patient's delivery pipeline every 2 hours. The disadvantage of this operation method is that it takes up a lot of operation time for clinical medical staff, and at the same time uses a syringe for flushing Replenishing water can easily lead to contamination of pipelines and liquid medicine, which has certain risks.
Therefore, the production of Enteral double bag (feeding bag and flushing bag) is very helpful for medical staff to solve the above problems.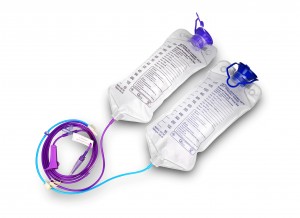 ---
Post time: Jul-22-2022